click to enlarge
East End and Primanti Bros
It's almost Picklesburgh, which means everything in Pittsburgh is about to be pickled. An East End Brewing and Primanti Bros. beer collaboration, the Almost Famous Pickle Beer, will soon be joining the ranks of pickle products.
Almost Famous Pickle Beer does, in fact, taste like a pickle. The name is a play on Primanti Bros. "Almost Famous" sandwiches, though, as James Prezioso, Director of Marketing of Primanti Bros. notes, the sandwich shop is also known and loved for its huge pickles. Those pickles are the inspiration behind Almost Famous.
East End Brewing founder Scott Smith and Prezioso added 630 pounds of fresh cucumbers to the brew. The cucumbers, combined with coriander, salt, and fresh dill, to make for a gose-like beer eerily (and wonderfully) similar to a Primanti pickle.
The official release of Almost Famous is on Thurs., July 25 at the Primanti Bros. Market Square location. The beer will be available for a limited time in select Pittsburgh neighborhoods. Don't miss out on this dill-icious collaboration!
click to enlarge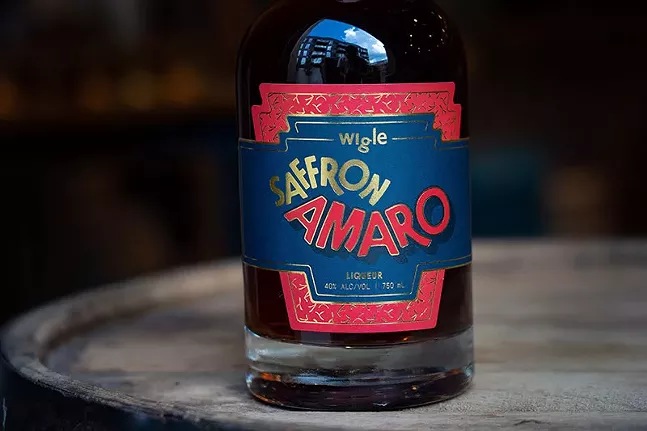 Wigle Whiskey
Two new spirits are coming to Wigle Whiskey in the coming weeks: Eau De Pickle and Saffron Amaro.
Eau De Pickle, a dill-inspired rye-based spirit, is coming back just in time for Picklesburgh. It's loosely based on Aquavit, a popular Scandinavian drink, and incorporates common pickling spices like dill and coriander.
The spirit, first created in conjunction with the 2018 Picklesburgh, is coming back just in time for the festival's 2019 edition. Celebrate the official release of Eau De Pickle on July 20 with a breakfast-inspired event (the spirit is perfect for a bloody mary).
Six days later, on July 26, Wigle Whiskey is releasing a brand-new spirit: saffron amaro.
The brandy-based amaro blends 12 herbs and spices to make the liqueur, including saffron, bitter orange, chamomile, and gentian root. Try it in a spritz (or straight up) at their release party at the Barrelhouse & Whiskey Garden.
Lola's Eatery
Garbarino's, East Liberty's newest Italian restaurant, is becoming a temporary home for soon-to-open Lola's Eatery.
Lola's Eatery is a brunch joint set to open in Pittsburgh this fall. In the meantime, the eatery is hosting two pop-up brunches at Garbarino's on  July 21 and 28. The brunch will feature many of Lola's signatures, including breakfast noodles, chorizo egg rolls, and beet hummus toast. Sweet and savory pastries, all hand-baked, will also be available.
For reservations, email info@lolaseatery.com.
Tiki 268
Welcome to "Yinzer paradise." This is what Pop Up Pgh, Market Square's themed bar is calling its next concept: Tiki 268.
The bar, most recently known as Level Up, is changing to tiki on July 24. There will be tropical-inspired cocktails, reggae music, and more.
Recent Openings
Struggling to keep track of all the new restaurants? We've got you covered. Here are two new spots that opened in recent weeks:
The Vault
The Beehive Coffeehouse has been transformed into a self-serve draft beer and wine restaurant. The Vault allows customers to pour themselves 32 ounces of beer or 12 ounces of wine using iPourIt technology.
In addition to futuristic drinking, The Vault serves a menu of Southern-fusion food.
SYN Taqueria + Pizzeria
Located in the former space of Sharp Edge Beer Emporium, SYN has it all: tacos, pizza, margaritas, and craft beer. Right now, all tacos and pizza are build-your-own.
Don't miss their happy hour for half off craft drafts and four dollar margaritas!